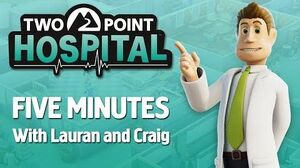 Hello Scrubs!
During the E3 event we were shown lots of new gameplay of Two Point Hospital and even spotted a couple of new hospitals we have never seen before! It was extremely exciting to see more of the game that none of us can wait to get our 'mitts' on.
A teaser GIF was release on the Two Point Hospital twitter feed a few days ago showing us clips of the new level giving us little clues to it's name. It turns out it was Mitton University, a training hospital in Two Point County.
Yesterday Lauran (Community Manager) and Craig (Marketing Manager) released a video on the Two Point Hospital YouTube channel recapping some of the gameplay footage of Mitton University shown at E3, with their very own commentary. Check out Mitton University as we take Five Minutes with Lauran and Craig.
"What's been your favourite thing that we've shown so far? How excited are you to get your... mitts (< that's a clue for the level!) on the game?!"

Over the past few months we have also been treated to a glimpse of some other levels by Craig @ SEGA - 'a man easily seduced by nice tiling'. He has now written two blogs on the Two Point Hospital Steam Community that tell us, in story form, the first 10 minutes of playing these levels.
They were certainly entertaining to read, give us little clues to unknown bits about the game, some that might even come in handy during gameplay, and I highly recommend them both!
"Who fancies 10 minutes in Flottering? Our ever-so- slightly-unhinged Hospital Administrator can take you there..."
In The Press