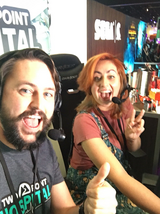 Our very own Dream Team Lauran (SEGA Community Manager), Craig (SEGA Marketing Manager) and Ben Hymers (Two Point Studios Co-Founder), made their way to Twitch Con in San Jose, CA this weekend.
The streamed live from the event, introduced us to other influencers in their community, had a special in-game item giveaway and received their Golden Joystick nomination.
Live Stream Dream Team
If you couldn't make TwitchCon 2018, Lauran and Craig had us covered with a full schedule of streams over at SEGA on Twitch.
Creative Assembly were extremely generous by sharing their booth so that we could enjoy our favourite pair play Two Point Hospital.
They showed off the Sandbox mode now available in Two Point Hospital and also the Spooooooky Mode edition which was available over Halloween. Also, guests! Including Dr Gluon and Kid Kerrigan.
They kept the booth open so anyone at TwitchCon could pop by and give the game a play, plus try out the new Sandbox mode. In addition, anyone who did stop by got an exclusive new in-game item DLC for free! See below for details.
Check out the full stream playlist HERE
In-Game Item Giveaway
Anyone who attended TwitchCon 2018 was able to stop by the Two Point Hospital booth and grab a free DLC code. This was for an exclusive in-game item, the Convention-al Rug. A wonderful purple style rug, perfect for covering up jam stains.
"...we have some exclusive in game swag for you too "
Golden Joystick Awards
Two Point Hospital was nominated for the Golden Joysticks, PC Gamer of the Year award recently, we covered it here on the wiki on the front page Two point County News, it's the 17th October 2018 entry. However it was while attending TwitchCon they officially received their nomination.
The amazing Marc Silk (Voice Actor) and Ben Hymers were filmed by GamesRadar about the nomination. Check it out below!
UPDATE
Scrubs voted far and wide and various members of Two Point Studios attended the Joystick Awards, but alas it wasn't enough to win this coveted award. But we did get some nice pictures!
In The Press