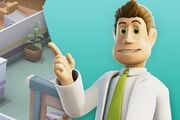 Two Point Studios will be at Rezzed this year showing off this years sickest game, Two Point Hospital. Who will be there!? I will be.
Our Two Point Peeps will be on the Developer Stage with the devs behind the Theme Hospital spiritual successor who will be talking about "Building a game with personality". You're gonna feel pretty sick if you miss out!
Buy your ticket now to avoid disappointment!
Here is what you can expect from Two Point at the event. Two Point Hospital will be at Rezzed: The Trailer
In The Press
Gallery