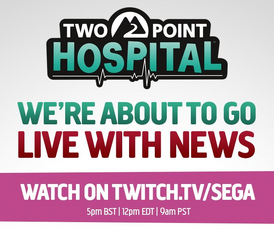 We are getting so close to launch! Which means the Dream Team Live Streams will be coming to an end soon. Sad times.
In this weeks stream we covered a new industrial hospital, Melt Downs. A new disaster was seen, Electrical Storms. Plus we finally got to see the Café and the Shock Clinic being built.
We are voyaging off to Melt Downs
We might even see some clowns
We'll see some pollution
And electrocution
In the grimmest of our northern towns
-- Craig Limerick #5
Unfortunately, Craig (SEGA Brand Manager), was streaming alone this week as Lauran (SEGA Community Manager), was attending Gamescom in Germany. It is fair to say that Craig did a fine job managing chat, while also producing one of his best hospitals to date. He even prepared a bunch of limericks which he read during the stream.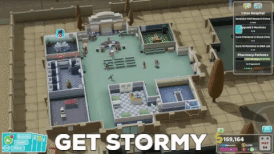 I'm all alone
Nobody's home
Nobody's on the phone
They're all in Cologne
And here I am
All alone
-- Craig Limerick #4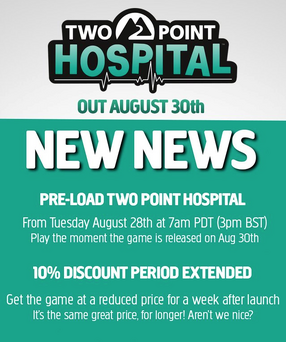 There was some news to be shared during this stream, and Craig wasted no time by opening with the two part news. For those of you that may have missed it, the news was later summed up in this lovely picture to the left via the Two Point Hospital twitter feed. They also wrote about these items in full on the Steam Community Page, read it HERE.
Hospital Pass is your sure bet
If you want a Golden Toilet
Pick up one now
And please tell me how
I'm going to rhyme again with toilet
-- Craig Limerick #6
Okay so not all the limericks were stonkers, some were stinkers, however they were great fun and all can be seen in the stream below. Check it out below, it was a good one! Craig even wrote a limerick about me and the wiki...
Blarla will often tune in
Peeping at my gameplay sins
But I'm not on her wiki
So I'm gonna be sickie
Right in the hospital bin.
-- Craig Limerick #2
"You are in for a prime poop."
― Craig