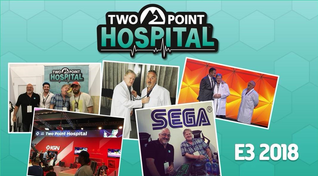 Greetings Scrubs!
Two Point left their mark on E3 this year with interviews, new gameplay footage and even the winner reveal of the 'Name This Illness' competition.
There was much to follow on various platforms it has been tricky to follow it all. So here is my roundup for all things Two Point Hospital at this years E3 event that I could pull together.
Medical Monday 11/06/2018
Doctor Webley (Co-Founder) and Doctor Carr (Co-Founder), took to the PC Gamer stage in the small UK hours and told us about Monobeasts, Turtle Head and more!
At one point there was a mishap with a microphone that resulted in a bromance. It was a cracking display of just how awesome the Two Point Peeps are.
To your left is that very stage show for your viewing pleasure, pre-set to start at the only part worth watching, the Two Point part. You can see a high quality version of the promo video that went with the stage show HERE
Two Point Tuesday 12/06/2018
Tuesday we were spoilt with two streams to watch and discover even more about Two Point Hospital. I stayed up super late to watch these ones and I was not disappointed. Mark Webley & Gary Carr appeared on the IGN Live show at 10pm BST and the SEGA Stream at 1am BST.
It was during the IGN stream they announced the WINNER of the 'Name The Illness' competition, more on this later.
To your right is the IGN Live show and right HERE is the SEGA Stream for your viewing pleasure.
Thirsty-For-News Thursday 14/06/2018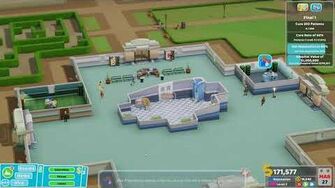 On Thursday there was no rest for the wicked as another two steams hit our screens with even more treats. The Two Pointers appeared on the Twitch Live Show at 6.30pm BST which you can view HERE Once again, it has been pre-set to start at the Two Point Hospital section of the show. Enjoy!
They also appeared on the Gamespot Live Show at 9pm BST. Watch it now right HERE.
The video I have posted to the left is from another E3 interview with live gameplay footage by Craig (Marketing Manager) and is a giggle to watch.
Name That Illness Competition WINNER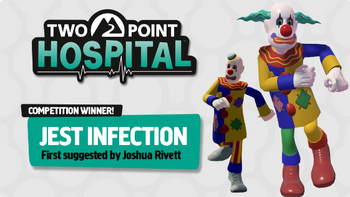 There were hundreds of entries for the competition and more than one person submitted the winning name. They chose the first person who submitted the winning name to receive their grand prize, but also promised a little something to the others that submitted the same entry.
The WINNER is Joshua Rivett with Jest Infection.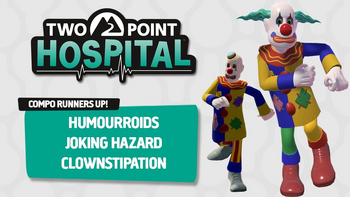 Get it!?
Dad jokes aplenty in Two Point Hospital, that is for sure. There were some really great runner up names that were so close, but didn't quite make it, which included:
- Humourroids
- Joking Hazard
- Clownstipation

All fantastic, but I think my favourite is Joking Hazard. What is yours?
It was a truly busy but fantastic time for Two Point Studios and our favourite game of the year, Two Point Hospital. They even made it onto an E3 Cringe Complication.
"We did it. It's been a lot of hard work and dedication but we've finally made it. We're featured on an #E3 Cringe Compilation We're so proud! We'd like to take this opportunity to thank @twopoint_mark for making this possible"
Gallery
Official Stuff
In The Press
Videos