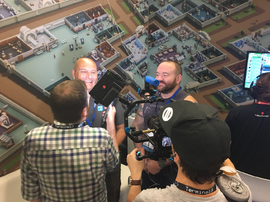 Gamescom was held in Cologne recently and the awesome peeps at Two Point Studios jetted over to the event to promote 2018's sickest game.
Mark Smart (Art Director) and Chris Knott (Lead Animator) were accompanied by the lovely Lauran Carter (SEGA Community Manager) for a few days of interviews and streams.
GamesRadar+
First up was the Gamescom After Dark show in association with Honorglobal. Mark and Chris were interviewed. If you missed it, fear not, you can watch it right here, right now.
Mark and Chris also appeared on a GamesRadar Developer Panel which covered Shadow PC and the Future of Gaming. You can check it out HERE.
IGN
Lauran and Chris took to the IGN stage for an interview and to showcase some new gameplay footage. Check it out below!
SEGA
Developer Interview
Lauran interviewed Mark and Chris in the Two Point Hospital room at Gamescom. After a catch up discussion both Mark and Chris were put to the test to see how sharp their Two Point Hospital illness knowledge was.
Watch it now and play yourself. How well do you fair on the Diagnosis Challenge?
Diagnosis Challenge
Heading Home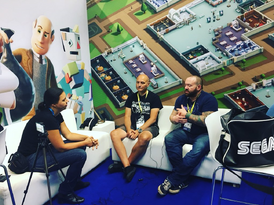 The Two Point Peeps finished up by having a press interview with GamereactorUK, however, I haven't been able to locate this interview. Sad times! If you know of a link to the this interview, please let me know and I shall add it here.
Two Point confirmed that being at Gamescom with Two Point Hospital, '...ran smoother than a Hospital in Hogsport! Happy days.'
Gamescom was the last press event for Two Point Hospital before its big day. The count down to launch is ON!
In The Press