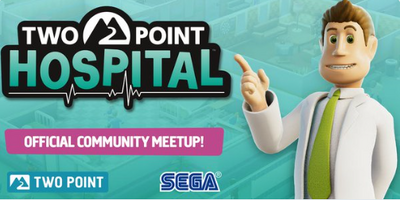 EGX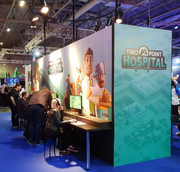 Between the 20th and 23rd of September at the NEC in Birmingham, EGX 2018 was held and Two Point Hospital were there for the festivities.
Two Point Hospital had a good sized stand inside the SEGA booth where anyone could sit down and play the game, and come and play they did!
On the 21st a group of Two Point Studio developers and the SEGA Community Manager were there to attend the stand, meet the fans, talk about the game and greet as many as possible.
Check out this video Fun Times with Rich & Lauran where they answer questions sent in by the fans.
Award Nomination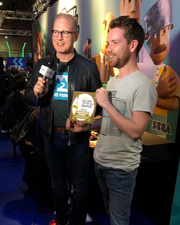 Voice actor Marc Silk also visited Two Point Hospital at EGX. For those of you that don't know, Marc Silk voices all three Two Point Radio DJs. Harrison Wolfe, Nigel Bickleworth and Ricky Hawthorn.
While Marc was there, him and Two Point's Ben Hymers, (Co-Founder), picked up a Golden Joystick nomination for PC Game Of The Year. You can help them win this award by voting for them HERE, page 14.
Congratulations Two Point! My vote is in! If you are on the fence, for some reason, then watch this video and see if they can change your mind. FOR US for PC Game of the Year.
Community Meetup
On the 14th September all Hospital Pass members were sent an email informing them of a community event they could attend at this years EGX. 50 FREE tickets were up for grabs.
Many Two Point Studio Peeps attended for drinks, games, pictures and many opportunities to talk to them about the game and more. Cedar Studios were also at the event. Below is a full list of all the Two Point Peeps that attended.
Lauran Carter, Ben Hymers (Co Founder), Chris Knott (Head Animator), Rich Brooks (Developer), Jo (Producer), Sam Webley (Junior Developer), Ben Perry (Programmer), and last but certainty not least Phil and Tommy from Cedar Studios.
Lauran Carter (SEGA Community Manager), was responsible for arranging the whole event. The upstairs Pinball room at the Tilt in Birmingham was reserved especially for the gathering. There were lots of Pinball machines for everyone to play on and even Kudosh behind the bar, meaning all attendees did need to be over 18.
Many familiar faces turned up for the schmoozing including YouTubers Geekism, MazGaming and TheRainbowGamerGirl.
T-Shirts
If all this wasn't amazing enough, Lauran also arranged FREE Two Point Hospital T-Shirts for all that showed up during the EGX event.
They came in a couple of different colours, but all had the Two Point Hospital logo across the chest. On the back they say 'PATIENT Build. Cure. Improve. (Try Not To Kill Anyone).
There is even an exclusive Developer version of this t-shirt for Two Point Studios to wear that has 'TRUST ME, I'M A GAME DEV' on the back.
Gallery