Hello Peeps!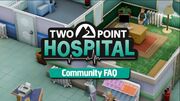 Two Point Hospital finally has a Steam store page and community hub! It is highly recommended you head over there now to add 2018's sickest game to your Steam wishlist.
While you are there why not read the latest Community FAQ now available for your reading pleasure. It answers all your questions and has some snazzy pictures to boot.
"Who's behind Two Point Hospital? How will I be able to play it?! Find the answers you're looking for and MORE in our Community FAQ!."
In The Press