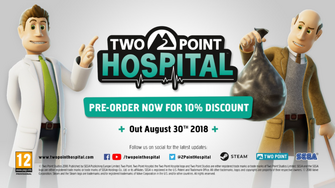 Hello Scrubs!
Yes! We FINALLY know the release date for Two Point Hospital! It's official! Two Point Hospital launches on 30th August 2018!
In addition, the embargo was lifted from all the recent press events that were held AND a whole bunch of Streamers and YouTubers got a demo version of the game for the first 4 hospitals to play, at home and create content for all you amazing, wonderful scrubs out there - including me! Blarla
So much is happening and I need to try and get it all into one nice location here, for you all to read, save you running around looking for it all.
Release Information
Not only has it been announced that Two Point Hospital will be out on the 30th August, but we also discovered it will be available on Windows, Mac OS X and Steam OS + Linux.
The minimum system requirements for Windows was also revealed AND there will be a 10% discount on all orders placed before launch. Making the full UK price of £24.99 fall to just £22.49. It's time to BUY NOW
And don't forget, sign up to Hospital Pass before launch to get your exclusive in-game item FREE!
The Steam Store Page was also updated with a brand new trailer, shown just above, and game description. They also updated their Community FAQs and released a little post about the Launch Date
Live Stream Dream Team
After the announcement and a mass of press release articles and videos, which are all listed below, everything I could find, Lauran (Community Manager) and Craig (Marketing Manager) streamed Two Point Hospital LIVE on the SEGA Twitch channel
It was really great seeing so much of the game in this stream, with a laugh a minute Dream Team. I highly recommend this for all dedicated Two Point Hospital fans.
It was so popular that in a tweet, they confirmed it would become a regular Wednesday thing. Watch this space!
In The Press
Influencers Content
Videos