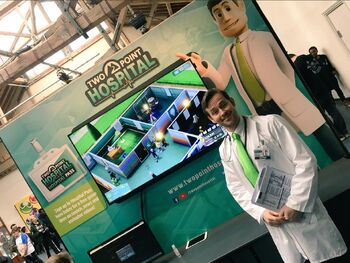 Welcome to my EGX Rezzed Two Point Hospital Round up. If you missed anything on the 13th April, fear not, it WILL be here.
Developer Session
I was lucky enough to attend this event and check out everything the Two Point Studios were up to. The main event was the 2pm Developer Session presentation, 'Building a Game With Personality'.
Community Manager Lauran Carter interviews Lead Designer Ben Huskins and Lead Animator Chris Knott about three keys aspects on developing a game which is packed with personality.
How do you make characters express personality?
How do you bring characters to life through animation?
How do character traits impact gameplay?
These three questions were explored with gameplay footage and laughs before presenting the exclusive in game item that all Hospital Pass members will receive at launch - The Golden Toilet.
The whole presentation was streamed live on Twitch! Watch It Here! I recommend 720p as 1080p quality didn't work for myself.
Two Point Hospital were kind enough to release the B-Roll from this presentation on their official YouTube channel, which you can watch HERE!
SEGA Booth
Two Point Hospital had their very own booth at SEGA. A large TV was playing some very familiar B-Roll and a computer nearby where you could sigh up to Hospital Pass.
It even had Dr. Clive Marmalade in the flesh to help you with the whole process.
After the presentation the Golden Throne was wheeled over and kept by the booth so all us scrubs could get some snazzy pics, and Craig.
The Golden Toilet
A real life golden toilet was created for the event itself, which Ben Huskins unveiled, on stage at the end of their presentation on Building a Game with Personality.
This glorious bog was lovingly created by Lauran & Craig. They were even kind enough to make a little blog of them slaving over this toilet for all us scrubs viewing pleasure.
Gallery
In The Press