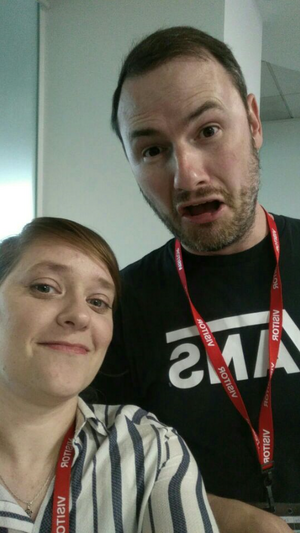 Hello Scrubs and welcome to my news blog!
All kinds happened. I visited SEGA for a UK Two Point Hospital press event where I actually got to play the game! A big announcement is coming AND Lauran (Community Manager) and Craig (Marketing Manager) plan to stream Two Point Hospital LIVE on Twitch!
SEGA Press Trip
I was a SEGA kid growing up, so to be invited to SEGA was exciting enough, but to go there and finally get to play Two Point Hospital had my Excite-O-Meter in complete overdrive.
The day started off bumpy as traffic getting to their office in London was pretty awful. I ended up arriving before anyone else and the SEGA team Lauran and Craig arrived super late. But we forgave them as they came bearing food, cakes and drinks for all.
It started with Craig giving us a small presentation accompanied with gameplay footage and told us all kinds of exciting secrets. Including seeing the whole of Two Point County, new location names and even what the big announcement will be. Frankly, I can't wait for all to be revealed tomorrow at 3pm.
And then it was finally time to pay Two Point Hospital.
I spent the entire day at SEGA, got a tour of the offices, interviewed Ben Huskins (Lead Designer) and Mark Smart (Art Director) and met some great content creators, including Aavak, Geekism, Sips, VooDooGoat and JoeR247. Pictures are in the gallery below.
For all the details on what I discovered, the interview answers and what it was like to play, then check out my video HERE
Big Announcement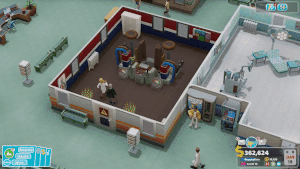 Today a rather interesting tweet came from the official Two Point Hospital Twitter account confirming that on the 18th around 3pm they will be announcing something big! That we should all prepare ourselves for the important news and it is not one to miss.
They included this GIF with their tweet referring to it as ELECTRIFYING news!
Live Stream Dream Team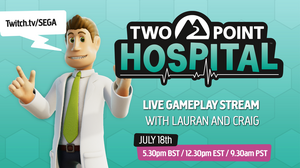 The stunning duo that is Lauran and Craig will be playing Two Point Hospital LIVE on the SEGA Twitch channel tomorrow at 5.30pm BST.
Set your watches because it will be a prime time to tell them what you want to see, ask questions about the game and just have another chance to see this game in action.
"So set your watches and join the Live Stream Dream Team (our own words) consisting of myself and Craig, as we play through an exclusive preview of the game!"
Gallery