Hello Scrubs!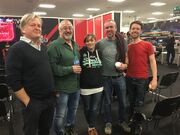 Last weekend Two Point Studios attended the PC Gamer Weekender to reveal the World Exclusive of Two Point Hospital gameplay, and what the event it was. So much news, pictures, footage and information came from this amazing weekend.
I have taken the time to have a round up of everything I could find and put it here, in a nice neat pile for you all to read at your leisure. At the top of the bill to get things started is Lauran Carter's (Two Point Hospital Community Manager @TheAlbionGirl) Blog which was posted on the Steam Community News Page.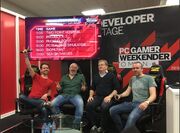 At 11am Two Point took over the Developer Stage for their grand reveal and you can watch the whole presentation here. After, I got to meet the team! They were just so incredibly kind. We chatted until it was time for them to go and attend all the other streams and interviews planned.
They have since released the gameplay in high quality with a new commentary to accompany it, curtesy of Mark Webley @twopoint_mark and Ben Huskins benhuskins. Watch the video now!
"To top it all off we even got to meet Blarla, who is one of our most supportive and knowledgeable fans."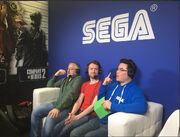 Later in the day the Two Pointers were on the SEGA Make War Not Love stream (Gary Carr @twopoint_gary and Ben Hymers BenHymers) and the PC Gamers own stream (Mark Webley @twopoint_mark and Ben Huskins @benhuskins) as well. Be sure to check them both out.
Lastly, if you are signed up to Two Point Hospital Pass, then be sure to catch the behind the scenes Show Room Floor interview with Gary Carr and Ben Hymers. If you aren't signed up for Hospital Pass, then why not!? Better do that now!
In The Press