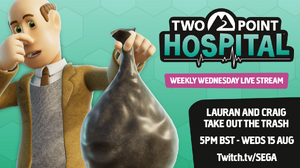 Lauran (SEGA Community Manager) and Craig (SEGA Marketing Manager) where back on the SEGA Twitch channel for another hour and another hospital. This time we were treated to an industrial zone hospital, (this is starting to sound like The Crystal Maze), by the name of Smogley.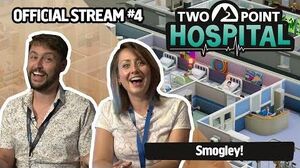 In this wonderful stream we got to see the Surgery room, a glimpse at the Marketing (Room), and one of my favourites, Head Office where they cure Turtle Head.
If you missed all the action, watch it here, now! Or visit the Two Point Hospital YouTube channel. They always simultaneously cast live to YouTube during the streams.
Games TM Magazine
In this months Games TM Magazine, Two Point Hospital had a 6 page spread, 6!
If you haven't purchased it yet, I recommend you do, it was a great read, with great images. My only complaint is Ben Huskins (Lead Designer) name was wrong again. I still have no clue who Ben Hoskins is.
That said it was a great interview with Ben Hymers (Technical Director & Co-Founder) and Mark Smart (Art Director). Whoever wrote the article, (I did try to find out their name), clearly loved the game, which is the best part.
"Have you picked up this month's edition @gamesTMmag? Make sure you do for a 6 page dose of #TwoPointHospital! ."
In The Press