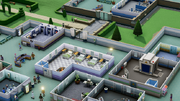 Hello Scrubs!
It was announced last month that Two Point will be attending the PC Gamer Weekender on the 17th February to reveal World Exclusive gameplay of Two Point Hospital.
Well, good news Scrubs because PC Gamer have finally released the schedule of the developer stage talk and reveal news.
Developer Stage
11.00. The Birth of Two Point Hospital (Two Point Studios) "Two Point Studios' co-founders Mark Webley and Gary Carr, hosted by Two Point Studios' Community Manager, Lauran Carter, will take you on a journey through Two Point County covering the inception of the studio from just an idea to signing a publishing deal with SEGA for their brand new game, Two Point Hospital We'll be showing a ton of previously unseen footage including a world-exclusive gameplay reveal where we'll reveal to viewers a brand-new in-game illness!"
Shortly after Lauran @TheAlbionGirl will be giving a 20 minute talk on Community Management alongside Ibrahim Bhatti @Ibstatronic - Community Manager for SEGA Europe. If you are interested in this line of work, then pop along.
In The Press