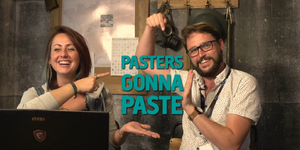 The Live Stream Dream Team were back today with some exciting news! Lauran (SEGA Community Manager) and Craig (SEGA Brand Manager) did their usual Wednesday live stream between 5-6pm BST on the SEGA Twitch channel. Only this time they had something to tell us.
Pasters Gonna Paste
A new feature was announced during this stream, a new COPY button! Finally we will all be able to copy and paste rooms. This feature will be released later this week. Once it has been released, I shall update this post with the specific links and details.
The COPY button will be found in the room inspector, which is displayed when you have a room selected. Clicking on the COPY button will copy the selected room to your curser ready for you to paste. Some questions asked during the stream have been answered here:
It will copy and paste internal windows, not external windows.
Machine upgrades will not be copied over.
You can still edit the room like normal after it has been pasted into your hospital.
If you missed the stream, fear not, you can WATCH IT HERE!
EGX Rezzed Community Event
Rezzed Birmingham is about to happen on the 20th-23rd September and on Friday 21st September Two Point Hospital will be there.
If that was exciting enough, they will also be holding a very special community event for scrubs to attend. Lauran will be there with a whole bunch of devs for drinks, snacks and chats!
If you would like to attend then make sure you are signed up for Hospital Pass and await that all important email that will have all the details.
Roadmap
A small thing mentioned, near the end of the stream was a Two Point Hospital Roadmap. I think many of us are looking forward to that one. So, watch this space, it's coming.