Two Point Hospital is a hospital business simulation building game developed by Two Point Studios and published by SEGA. Two Point Hospital is set in Two Point County, where Pontians are inflicted with a range of peculiar illnesses. The administrators role is to manage troublesome staff, design and build hospitals and spread the budding healthcare organisation across the regions of Two Point County.

Two Point County News
The Superbug Initiative is LIVE! With GLOBAL Project
30th April 2019

The Superbug Initiative A new, free update for Two Point Hospital ESRB

Come together to change the world for the better (and grab great rewards) in this awesome new, free update for Two Point Hospital, The Superbug Initiative! Join the first GLOBAL project The Gyro-Nut to gain EXCLUSIVE new items.

There are also five local projects you can play with your Steam friends. Don't have any Steam friends playing Two Point Hospital you say? Fear not, join the Official Two Point Studio discord today and be a part of the scrub community.

Build a better, brighter future, together.
A GLOBAL Initiative - The Gyro-Nut
17th April 2019

A new global Superbug Initiative has begun today! You can only take part and receive the EXCLUSIVE in-game rewards during its limited run. Be sure not to miss out and join today!

Sophie Nova, CEO of Bungle Technologies is asking for your help! Bungle have created a new, cutting-edge machine thingamajig: the Quadra-Hyper Neuro-Perma Batho-Omni Gyro-Nut. They are calling for the Superbug Network to explore different avenues of research to help design a use for this new component.

Be sure to join the brand new Official Two Point Studio Discord
The Superbug Initiative
16th April 2019

The Superbug Initiative A new, free update for Two Point Hospital ESRB

A new way to play has arrived in Two Point County. You can now complete collaborative projects with friends and globally. These exciting new challenges come with brand new in-game rewards! Such as the Ectovat and Browbeater.

You can join the Superbug Network right now via the beta branch. As long as you have gained one star in Mitton University, you are ready to go! Don't have any scrubs to collaborate with? Join the brand new Official Two Point Studio Discord
Open Surgery - FREE WEEKEND & 33% OFF
14th March 2019

'How's that for a slice of fried gold?! We're calling this epic event Two Point Hospital: Open Surgery. Not only is the game TOTALLY FREE TO PLAY from 5pm GMT today, and available at 33% off (our biggest discount yet, btw) but - and this applies to current owners of the game too - you will also be treated to a variety of items honouring our SEGA family once you've arrived in Two Point County!' Be sure to check out our SEGA Collection page.
Golden Bathroom Suite
11th March 2019

Golden Bathroom - Hospital Pass

Are you a member of Hospital Pass? Those who are will be enjoying their Golden Toilet DLC. Well good news Scrubs, you can finally make the entire bathroom golden, with the new Golden Bathroom Suite DLC available to all Hospital Pass members.
Pebberley Island DLC
4th March 2019

Today new DLC was announced! A new Tropical region of Two Point County will be unleashed as intrepid explorer Wiggy Silverbottom searches for the secret to eternal life, which is rumoured to exists somewhere on the Island. This could change the future of healthcare, forever.
NEW Interior Designer
6th February 2019

Two Point Hospital has launched an Interior Designer! As of today, in a free v1.11 update, we can create our very own walls, floors, rugs and pictures for our hospitals. We can even share our creations with others! This includes our sandbox hospital creations as well!
Interior Design, The Squabbler & Eternal Life?
10th January 2019

There is so much to look forward to in 2019 and Harry was kind enough to give us a little teaser.

Been wanting modding support for Two Point Hospital? It was always said to come post launch but when!? Soon! How soon? Just 'soon' said Harry. He implied much is planned for the Steam Workshop, but the first modding for us to enjoy will be the "Interior Designer". We will be able to create our own pictures, paintings, canvases, rugs, walls and floors! We can't wait to see all the custom décor in hospitals across Two Point County. More information for all-things-online, and something collaborative, will be shared soon.

The Two Point Squabbler has always been the place for all your local news. The popular Two Point County newspaper, famed for always giving 'two points of view, on all subjects', is said to be releasing an 'online edition', later this year. Remember Pontians, 'you decide what's true.'

The last bit of news Harry shared was the most intriguing of all.

"There's word in Two Point County that an eccentric millionaire has set his sights on immortality in an attempt to circumvent, well... mortality. Could this be the death of healthcare as we know it?"

Featured Article

Helping Out
Welcome to the Two Point Hospital Wiki! Feel free to join us and contribute to this wiki.
Head on over to Helping Out to get stuck in.

Recent Updates
DLC

18th March 2018
5th December 2018
Past Events

23rd October 2018

Official Twitter Feed

Official Facebook Page

Polls and Results
Two Point Hospital on other platforms, yes or no?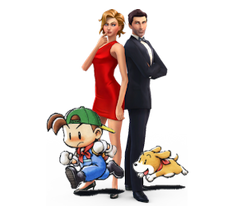 Community content is available under
CC-BY-SA
unless otherwise noted.