Spooooooky Mode is the 1st update that covered an event giving Two Point Hospital a theme for a seasonal event.
It was a cosmetic update changing the appearance of hospitals, items with the addition of some new spooky music. It even changed a visual illness.
It was released on 23rd October 2018 and ran until 5th November 2018.
Description
Edit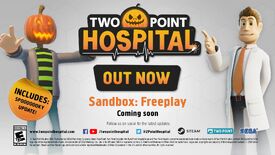 'Something spook-tacular has happened to TwoPointHospital Spooooooky Mode includes cases of Frightheadedness, a spooooooky soundtrack and more. Get in the Halloween spirit and 'Trick or Treat yo'self!'
'If you haven't visited Two Point County recently, you may have missed our totally spoopy Spooky Mode. Pumpkin heads roam the halls to some brand new creepy music…'
Shortly after, on the 26th October, Sandbox:Freeplay update was released. They where advertised together with a 10% off discount in the 2018 Steam, Halloween Sale.
Features
Edit
Many cosmetic changes where made. Each have been listed below with images in the gallery.
Night Hospitals - Mitton University and Tumble are changed from day time, to night time hospitals. Inside the buildings remains brightly lit, but the outside is dark. The street lamps remain off but the car lights and ambulance lights flash brightly in the dark.
Hospital Decorations - All hospitals have new spooky decorations at every entrance. Main entrances have a collection of pumpkins, two of which have glowing faces. All other external doorways have pumpkins but also a big black cauldron with green liquid steaming inside. Bats also fly across all hospitals. They can be seen alone or in groups.
Music - Six original tracks are replaced with new spooky versions. All these tracks, with a sample, are listed below in Music. They are also listed on the Two Point Hospital page.
Cosmetic Item Changes - 8 items update with a spooky theme and each have images in the gallery below. The items that receive the spooky makeover are:
Reception (Item) - Pumpkins can be found behind the desk with one sitting proud on top.
Frightheadedness
Edit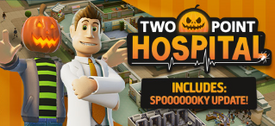 Yes, Spooooooky Mode even gets its very own illness. The illness Lightheadedness is morphed into the beautiful but equally alarming Frightheadedness. Instead of having lightbulbs for heads, these more folk have Jack-o'-lanterns for heads.
The cure is still a trip to the De-Lux Clinic, but instead of unscrewing the bulb, the machine grabs the pumpkin head and pulls, until the pumpkin is plucked from the stalk neck. The flame inside the Jack-o'-lantern extinguishes and is thrown away as a new head is popped back onto their shoulders.