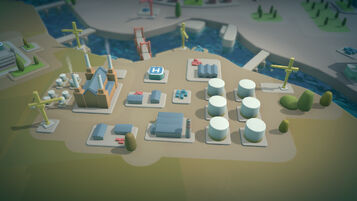 To unlock this hospital you require a 1 Star rating in Flemington
A teaching hospital focused on surgery.
Introduction
Edit
Welcome to Smogley. Based just outside the city, the mayor is keen to help develop this area. Currently this means it receives a generous supply of two things: pollution, and patients requiring Surgery.
It is recommended building up a teaching hospital and training some surgeons. Surgery requires a qualified Doctor, and a Nurse, but it brings in the big bucks so it's worth it.
Balance - $250,000
Hospital Level
- 1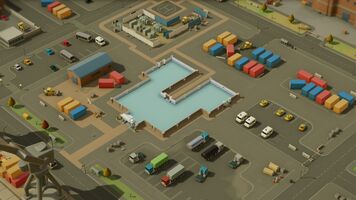 Main Objective
Edit
Star Objectives
Edit
1 Star Hospital
Edit
Requirements
Train 10 Staff
Cure 15 Patients in Surgery
Cure 5 Patients with Turtle Head
Rewards
Unlocked
2 Star Hospital
Edit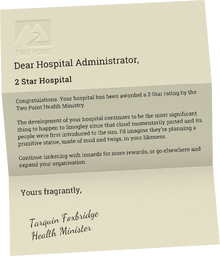 Requirements
Train 20 Staff
Cure 30 Patients in Surgery
Cure Rate of 75%
Get Hospital Level to 12
Rewards
Unlocked
3 Star Hospital
Edit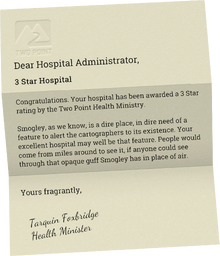 Requirements
Train 30 Staff
Cure 50 Patients in Surgery
Cure rate of 90%
Get Hospital Level to 16
Rewards
Unlocked
Plot Information
Edit
Plot 2 - Price: $50,000, Size: 1020m2, 16 Days to Build
Plot 3 - Price: $35,000, Size: 696m2, 16 Days to Build
Plot 4 - Price: $35,000, Size: 680m2, 16 Days to Build
Plot 5 - Price: $35,000, Size: 648m2, 16 Days to Build
Plot 6 - Price: $40,000, Size: 776m2, 16 Days to Build
Plot 7 - Price: $26,000, Size: 516m2, 16 Days to Build - Requires Plot 4
Illnesses Encountered
Edit