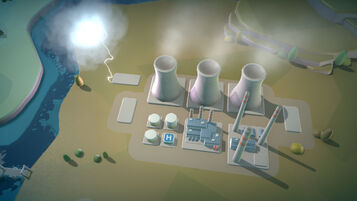 To unlock this hospital you require a 1 Star rating in Flemington
An abandoned hospital near the power plant.
Introduction
Edit
The Melt Downs Power Plant seems to be experiencing some 'technical difficulties'. Bungle Technologies, owners of the power plant, have put out a press release saying everything is fine, no need to panic. The very same day they also evacuated this nearby hospital. Apparently, an experiment in the research department went awry. Mayor Windsock has asked if we could take over. We found some intriguing research papers scattered around, maybe we should continue their work?
Looks like the place needs a not of tidy up first. Also, rumour has it there are some very strange patients showing up in the local. Erm, good luck!
Star Objectives
Edit
1 Star Hospital
Edit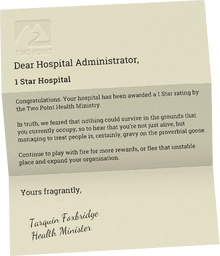 Requirement
Rewards
Unlocked
2 Star Hospital
Edit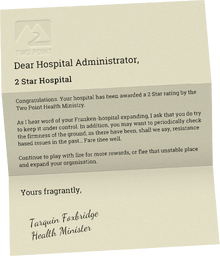 Requirement
Cure 20 Patients in DNA Lab
Upgrade 10 Machines
Get Hospital to Level 10
Cure Rate of 75%
Rewards
$20,000
K150
250 Research Points
Unlocked
3 Star Hospital
Edit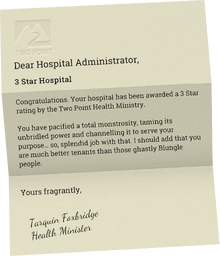 Requirement
Cure 40 Patients in DNA Lab
Upgrade 15 Machines
Get Hospital to Level 15
Cure Rate of 90%
Rewards
$30,000
K200
500 Research Points
Unlocked
Plot 2 - Price: $30,000, Size: 544m2, 1 Day to Build
Plot 3 - Price: $30,000, Size: 592m2, 1 Day to Build
Plot 4 - Price: $40,000, Size: 832m2, 1 Day to Build
Plot 5 - Price: $40,000, Size: 832m2, 1 Day to Build
Plot 6 - Price: $60,000, Size: 1184m2, 1 Day to Build
Plot 7 - Price: $45,000, Size: 864m2, 1 Day to Build
Illnesses Encountered
Edit