Bigfoot DLC is the first DLC expansion for Two Point Hospital.
The DLC unlocks a new region of Two Point County that features new Hospitals, Illnesses, Rooms an Items. The first star of Flottering hospital must have been achieved in order to access the DLC content in game, this is to make sure that all basic tutorials have been completed.
The DLC became available to buy from the 5th December 2018. On the same day a large patch Update v1.09 was also released for the base game available to everyone.
Description
Edit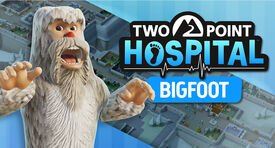 Local celebri-yeti Bartholomew F. Yeti, the otherwise reclusive furball, has been petitioning for better healthcare in the Pointy Mountains, home to the most frequently forgotten people in all of Two Point County. Mr Yeti will need your help, curing new illnesses such as Cold Shoulder, Bard Flu, and Aurora Snorealis!
Explore a new wintery region, featuring three brand new hospitals, 34 new region-specific illnesses (including 9 new visual illnesses), and a whole host of new in-game items.
Cure a range of new illnesses in a variety of exciting new treatment rooms! Two Point Hospital: Bigfoot includes 9 new visual illnesses and 34 region-specific illnesses.
Decorate your hospitals and make them look the best on the slopes with a variety of warming wintry accoutrements!
Enjoy new seating options (including the revolutionary Cube of Sitting), decorate your hospitals with the finest ski-ware, or simply place down a gorgeous fir tree and furnace and lap up the wintery atmosphere.
Illnesses
Edit
Disasters
Edit
Main article: Disasters
Main article: Two Point Radio
Achievements
Edit
Main article: Achievements
Achievement
High Altitude Health Service
Earn 1 Star at each hospital in the Pointy Mountains
The New Gold Standard
Earn 54 Gold Stars
Now Even Cheesier
Complete the "Cheesier Gubbins" Research Project in Swelbard
De-Lux Suite
Have a Level 5 De-lux Clinic at the Underlook Hotel
Furry Good Review
Knock the socks off of Bartholomew F. Yeti
In The Press
Edit